MAHAKA X – PT Mahaka Media Tbk Reports Third Quarter 2022 Results
News

PT Mahaka Media Tbk Reports Third Quarter 2022 Results
Jakarta, 22 November 2022 – PT Mahaka Media Tbk (IDX: ABBA), on 22 November 2022, released financial results for the quarter ended September 30, 2022.
Third quarter revenue increased by 49% q-o-q, respectively. The revenue growth was driven by all business segments, except tv broadcasting with major contributors from event organizer and media buying. Third quarter EBITDA and NPAT were positive of IDR 2,663 and IDR 4,609, respectively, compared to negative EBITDA and NPAT in 2Q.
Source of growth in Media Buying came mainly from out-of-home and adlibs placements while event organizer and rental revenue gained growth due to more offline activities held in 3Q. For newspaper business also enjoyed growth due to more ads revenue.
Despite the strong revenue performance in 3Q, revenue in 9 months still declined by 9% y-o-y, although lower than the 23% and 19% y-o-y decline in 3 months and 6 months respectively. Negative EBITDA and net loss declined by 15% and 22% y-o-y, respectively.
Management of the Company said, "we see a stronger revenue growth in 3Q and expect the positive trend will continues in 4Q for all segments.
Third Quarter 2022 Financial Highlights
The following table summarizes our consolidated financial results for the quarter ended September 30, 2022 and 2021.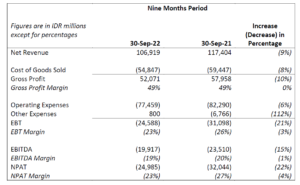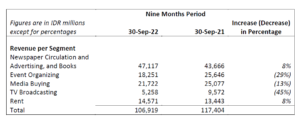 The following table summarizes our consolidated financial results for the quarter on quarter April 1, 2022 – June 30 2022 and July 1, 2022 – September 30, 2022.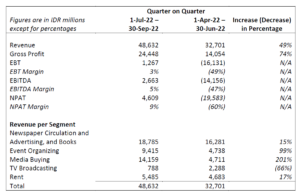 Forward-Looking Statements
This press release may contain forward-looking statements regarding our future business plans and expectations that may involve risks and uncertainties. These forward-looking statements are only predictions and may differ materially from actual results due to a variety of factors and reported results should not considered as an indication of future performance. Any forward-looking statements contained herein are based on assumptions that we believe to be reasonable as of this date. We undertake no obligation to update these statements as a result of new information or future events.
ABOUT MAHAKA X
Mahaka X is a brand transformation of PT Mahaka Media as an adaptation to development in the media industry and technology in Indonesia. The transformation has made Mahaka X as a tech-based media company that offers full-service, media-tech solutions for brands in Indonesia.
Mahaka X has a vision with focus on digital media and technology that empower creators, communities, conversational, and commerce. These aspects are well-represented in our business units which are Republika, Inspire, Mahaka Radio, JakTV, Alive dan Creative Intel. At Mahaka X, we strive to always incorporate business, technology, and creativity cohesively in order to bring sustainable growth through a complete creator ecosystem.
Contact: S. Pramudityo Anggoro
GM Legal & Corporate Secretary
Email: corsec@mahakax.com Website: http://www.mahakax.com